Selling your used car can be an emotional experience. You've had it for years, and it has seen you through thick and thin. But keeping a used car around makes little sense when it comes to increased maintenance costs, warranty periods, and the like. 
People looking to sell used cars often go for a dealership, assuming they will get the best and most fair price there. But that is not the case. 
Not only do car dealerships give you a pile of paperwork to peruse, but they also provide you with non-lucrative deals and unfair prices. If you are wondering, "How can I sell my used car without a dealership?" then 1888 Pay Cash for Cars has all the answers for you! 
Selling Your Used Car to a Dealership? Think Again
If you are considering selling your used car to a car dealership, think again. 
A car, even a used one, can be worth a lot of money. A car dealership is aware of that and will try and make as much profit as possible. Here are some ways selling your car to a dealership can be a disadvantageous deal for you. 
Unnecessary Handling Fees
Car dealerships drown you in a mountain of paperwork containing legal jargon that only some of the best legal minds can understand. All sorts of fees are included when selling your used car to a dealership. This could be the inspection and emission fee, the documentation fee, destination charges, etc.  
Dealerships continue to charge exorbitant prices in the guise of handling fees. The structures of these amounts are such that they are made absolutely non-negotiable. Therefore, you could lose money selling your used car to a dealership. 
Non-Negotiable Prices
Car dealerships are not known to negotiate prices, especially for used cars. When selling your used car, selling it to a car dealership is probably the one way that you will get the lowest price for it. 
Dealerships aim to earn profits rather than take the car out of your hands. You will have to do most of the work yourself when it comes to showing the car, making the sales pitch, and making it presentable. But if the car is deemed unsatisfactory by the dealership, you might get a meager price for it. 
No Control of the Sale
When you sell your used car to a dealership, remember that you will have zero control over the entire sale as a seller. The prices are non-negotiable, and the dozen or so different fees associated with the sale are unavoidable. Your dealer may include additional hidden costs in the sale. They could downplay the car's condition and offer a very low price. 
In short, the entire negotiation power is in the dealership's hands. From the start of the process until the end of the sale, the dealership will have complete control over the sale process. 
Paying Repair Costs
If your car is in poor condition or there are issues with the internal machinery, you will have to spring for repairs and maintenance costs to ensure that the car is in tip-top shape when the dealership comes to evaluate it. 
The dealership will already have a low price in mind, and if they find out about any repairs that need to be done, they might not make an offer at all. In the end, you will lose out on repair costs as well as the opportunity to make a sale. 
How Can I Sell My Used Car Without a Dealership? – Explained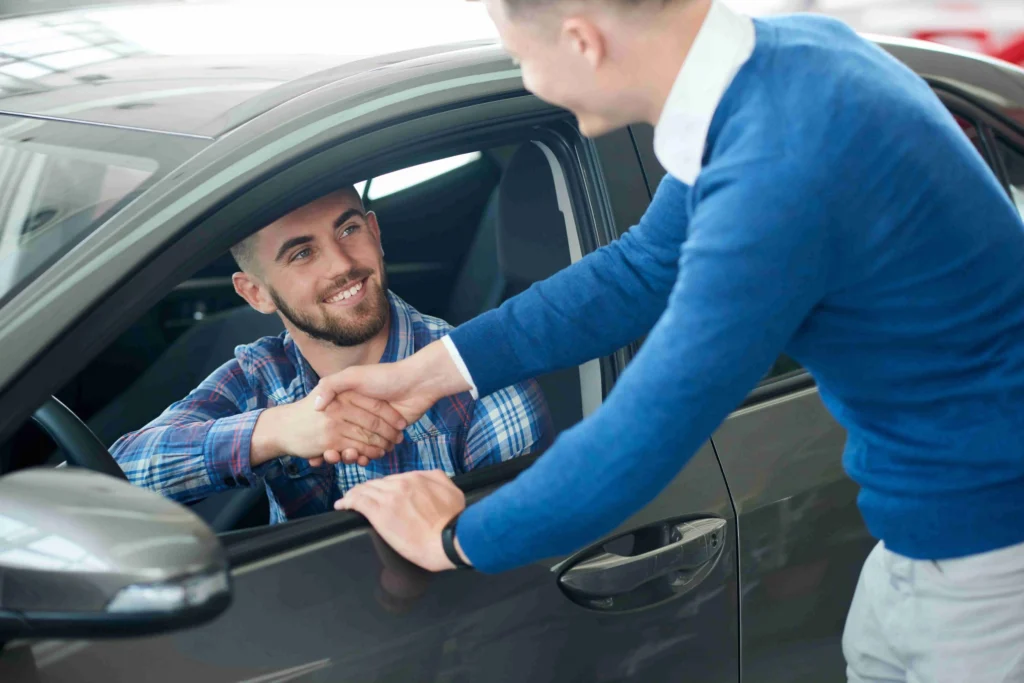 Coming back to this question that could benefit you with thousands of dollars, selling your used car without dealerships has become pretty simple in this day and age. 
Here are some simple ways to sell your used car without a dealership. 
Sell Your Used Car Online
One of the easiest ways to make any sale is by posting an ad online. The same applies to used cars. By providing the details of the car, license, registration, make, and model, you can post an advertisement online that can reach millions of potential buyers simultaneously. 
Selling your car online ensures that you have control over the sale process. You can set the prices accordingly and make negotiations based on your liking. Unlike selling to a dealership, selling your car online will guarantee your control over the process. 
Sell Your Used Car Privately
Another straightforward way to make a quick used car sale is to sell it privately to a close friend. The prime advantage of this option is that you do not need to advertise the car or haggle much about the price. You may not get the full price for the car, but that fact applies irrespective of how you sell your used car. 
If your friend is familiar with the vehicle, it will only be a matter of getting the car checked at the workshop once and handing over the keys. 
Sell Your Used Car to 1888 Pay Cash for Cars
It may sound a little biased, but the easiest way to sell your used car is to contact 1888 Pay Cash for Cars. Not only do we offer a fair and reasonable price for your used car on the spot, but we also guarantee immediate payment as soon as the car has been picked up. When you sell your car to 1888 Pay Cash for Cars: 
You ensure a car pickup that is free of charge. 
There is no hidden handling fee or service fee. 
You do not have to spend any money on repairs. 
It is the easiest way to get immediate payment for your used car. 
You can use the cash to buy your new car. 
Contact 1888 Pay Cash for Cars and Sell Your Used Car The Hassle-Free Way
1888 Pay Cash for Cars provides the most relaxing experience of a car sale you have ever witnessed. With instant offers and reasonable prices, our company eliminates the need for intermediaries and unnecessary paperwork, ensuring you get the best deal for your used car. 
With a BBB A+ grade awarded by the Better Business Bureau, 1888 Pay Cash for Cars has provided quality service to all clients and customers for over 25 years. We guarantee 100% customer satisfaction if you choose our company to sell your used car. 
With no hidden fee and free towing during the hours convenient to you, 1888 Pay Cash for Cars will offer you the best rates. We also schedule picks ups or drop-offs at your convenience. 
You can call us at 1888-729-2274 or visit our website for an instant quote. You can also visit 1888 Pay Cash for Cars at 4699 N. Dixie Hwy, Pompano Beach, Florida – 33064. 
Selling your used car at the right price has never been easier.