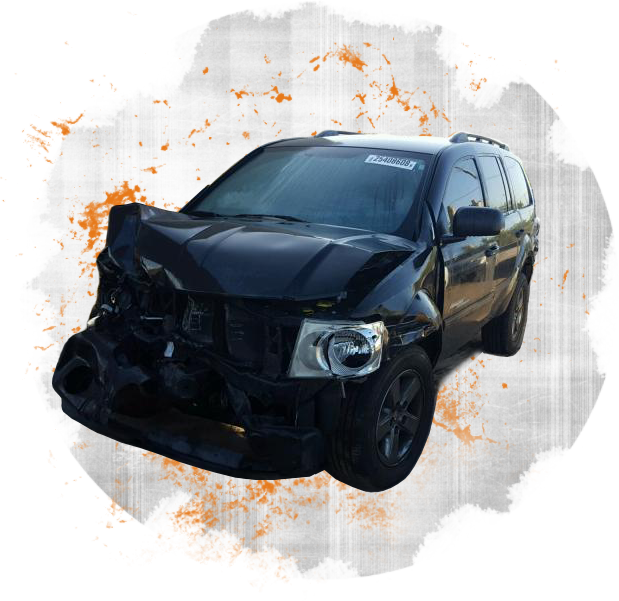 Get Cash Instantly for Wrecked Car
Sometimes you just need to sell your car for cash. And at some point in your life as a driver, you may be involved in a car accident. If you are fortunate, you will not be injured and your car won't suffer too much damage. However, we all aren't that lucky and the possibility of a serious wreck is a scary one. A bad accident can total your car, leaving it costing more than what it is even worth. If this happens, you may be left with no options since no one will give cash for wrecked cars. After all, you probably think 'I can't sell my wrecked car because no one would want it.
But what if I told you that you could actually sell your totalled car? That's right your completely worthless car isn't completely worthless after all! There are actually companies that will buy your wrecked car. If you thought your best option was to consider your car a loss, get rid of the car and then buy a new one, then consider this option.
Why Would they Want a Wrecked Car?
You have probably heard of car junkyards and maybe have even seen them in your local area, but you may just assume that is where damaged cars get sent to be junked (you know, because they can't go to the dump with other garbage). While this is partially right, you are missing a very critical point: not all those cars get taken away as garbage. Junkyard car removal companies will remove your car, pay you cash for wrecked cars and then reuse every part of the car that is salvageable.
Tires, engine parts, seats and other car components are sometimes still in usable condition, even after a car wreck. So even though your car isn't worth the price to repair, these companies will still give cash for wrecked cars because it still has parts that they can use or make money off of. They will take your car even if it doesn't run since they will use a tow truck to take it away. Even if you think your car is nothing but a tin can, they will find a value to it.
Choosing the Right Company to Sell My Wrecked Car
While there are dozens of companies out there that give cash for wrecked cars, they aren't all created equal. You want to make sure you choose a company with a good reputation, a long history in the car removal industry and one that has no hidden fees. Then, you have to make sure that the company is located in your local area especially if your car is not drivable and needs to be towed. Most companies will only pick up within a certain amount of miles from their office which can limit your available options. Finally, if you need your car to be towed (which is the easiest way anyway), you should choose a company with free towing. Why pay a fee for your car to be taken away when there are companies out there who will do it for free?
One company that fits this bill is 1 888 Pay Cash For Cars. With over 25 years in business and an A+ rating with the Better Business Bureau (BBB), they have a solid reputation and thousands of satisfied sellers. With 400 offices country-wide, they have offices located within each of the 50 states which means you have a great chance of being located in their pick-up area. In addition, they will tow your car away for free. There are no hidden costs and there is never a charge to use their services. The only one that pays anything for them and that money goes straight to you. Now that you have found the best company to sell my wrecked car, you can move forward with the process.
Getting the Best Price
As a rule of thumb, the more information that you can provide to 1 888 Pay Cash For Cars, the more cash for wrecked cars can be given. When you go to the Get a Quote form, it will ask you for a comprehensive list of information. While you are only required to fill out the first few tabs such as your contact information and basic details of the car, filling out the additional questions will give them a better idea of what you are trying to sell.
You can also add pictures of your car so they can see all the damage. Without adding this additional information, they may not know all the value that your car may have left and therefore will offer you less than what you could potentially get. Be honest about the condition of your car, because it will be looked over by the tow truck driver before payment is handed over. After the form is received, a customer service agent will follow up with a phone call to ask any additional questions about your car. Take note that even though they will take a car that has no keys, you will get more money if you have the keys.
Completing the Transaction
Once you agree upon the sales price, the pick-up will be scheduled most times within hours. However, another day can be booked if that works better for you. Make sure you will be home for the pick up just in case the tow truck driver has any questions and to make sure you get the agreed upon price. When your car is picked up and looked over, the driver will hand you the check and then take away your car. The transaction is completed, your wrecked car is now out of your hands and you never have to see it again.
When all is said and done, using 1 888 Pay Cash For Cars makes dealing with a wrecked car much easier. They save you the cost of having it towed and scrapped all while giving you cash in YOUR pocket. You won't even have to keep a damaged car in your driveway for too long because they can usually remove it the same day. Once your car is gone, you can move forward with your life and use the extra cash towards a new car.