Some cars age really well and seem like they'll last forever and others don't. Your car might be close to the end of its road. What do you do with it once its old and damaged? Do you scrape together enough money to fix it up, sell it as a used car, or sell it for parts? Or would you want to get cash for your damaged car? Selling your car might be the best option.
How to sell a damaged car for cash? – Get cash for cars!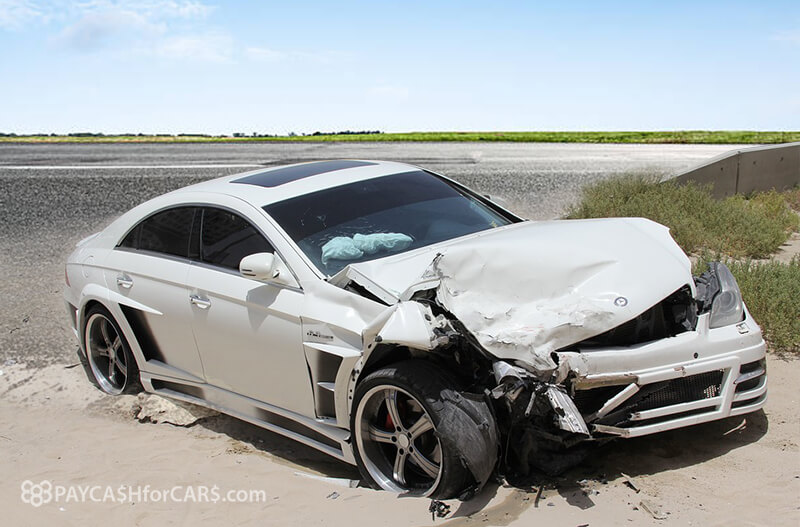 If your car was in an accident or is suddenly non-running and damaged, the options of fixing it or trying to sell a damaged car for cash comes to mind. Much of the time collision repairs are too costly when measured against the value of the car. We have detailed when it might be worth it to sell your car over repairing and what you should do with a damaged car.
Where Can I Get Cash for a Damaged Car?
Maybe you have engine rod knock or you have multiple engine oil leaks. Your transmission might not be shifting or it's stuck in limp mode. Your car's differential or transfer case has piled up inside, or your car's air conditioning has called it quits.
Are your mechanical concerns worth repairing? Some mechanical problems are costly to repair and could stretch your credit card to its limits. Sure, the symptoms might be minor or it's just one thing right now. But after this repair, what's next? Something else always goes wrong and you're back to square one.
Whether it's a major or minor mechanical problem and whether you know precisely what the issue is or not, 1888PayCashForCars is always a good option to sell a damaged car for cash.
Minor fender-benders happen. So do big accidents. You'll overlook a small ding in your bumper but if your front end is pushed in, you can't ignore it. Sometimes the collision you've been in either isn't covered by your insurance policy or it would cause your premiums to skyrocket. You can decide to forgo your insurance claim and deal with your car on your own…but now you're stuck with it and in your head, you say "Sell my damaged car for cash".
Who gives cash for a junk car? 1888PayCashForCars does!
Selling damaged cars is a unique business and because of that, you'll have to find unique buyers. Out of all the options, private buyers, junkyards, selling a crashed car online, trading in an accident car and more, 1888PayCashForCars does it better. How can you get the best cash for a damaged car? Well, you'll find damaged car buyers that say they pay cash for cars. They pay next to nothing for your car – nowhere near what it's still worth – then might even charge you to take it away. To sell a damaged car privately means spending a lot of your own valuable time talking to people who just want to talk you down in price. So is there a place that gives the most value, best deals and top cash for a damaged car?
There is! If you ever wondered "sell my damaged car for cash", there's a better option than a junkyard or classified ads. Sell your car for cash to 1888PayCashForCars. We serve across the United States. If you want to sell your broken, damaged vehicle, or if you've said, "I NEED to sell my damaged car", 1888PayCashForCars is your best bet. When you sell a damaged car online you can complete the entire process without even leaving your house!